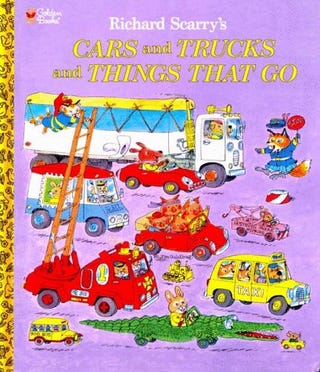 Among my favorite childhood memories are the books of Richard Scarry. Today as the father of a soon-to-be four year-old, I've been able to introduce introduce my daughter to his works. What I've rediscovered while sharing these books is how influential they were on my love of cars.
With books like "Cars and Trucks and Things That Go", "Richard Scarry's Busy Town" and "Richard Scarry's Best Word Book Ever", Scarry introduced generations of children to the automobile. The Pig family and their Beetle convertible, Dingo in his Ferrari/Maserati... they all play a prominent role in these books.
You'll find things real, from Mercedes Benz to Bond Bug, to the fictional, such as apple cars, banana cars, alligator cars, donut cars...
Airplanes, ships, trains, construction equipment, fire trucks. Richard Scarry's books have everything. Everything to plant the seed in the mind of young gearhead.